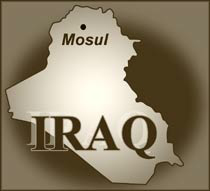 A 75-year-old Christian was shot and killed in Mosul, Iraq on January 11. Hikmat Sleiman had just returned home from closing his grocery shop when a group of assailants opened fire, killing him instantly. Local Christians see his murder and the string of other attacks against believers in recent months (click here for more information) as evidence of "ethnic cleansing" designed to force Christians from the area. (Source: AsiaNews)
Pray for comfort for those mourning the loss of Hikmat. Pray that his attackers will come to know the Lord as their Saviour. Pray that Christians in Mosul will be filled with Christ's peace during these difficult times.
For more information on the persecution Christians face in Iraq, click here.