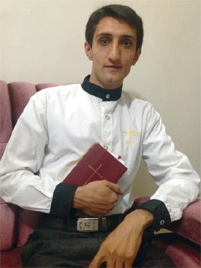 Ebrahim Firouzi has been imprisoned since 2013 on charges, including "actions against national security" (see this report). He is presently being held at the Rajai Shahr Prison, considered one of the harshest in the country.
Ebrahim's mother has been suffering with cancer and appealed several times to the courts, asking that he be granted permission to visit her, since she was too sick to travel to the prison. Officials refused and, sadly, she passed away without seeing him. The funeral was held on December 4th and Ebrahim was unable to get permission in time to attend the service.
Continue to remember Ebrahim in your prayers. Pray for his brother and sister as they are also grieving the loss of their dearly beloved mother.