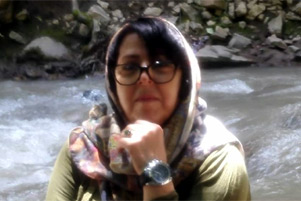 Mahrokh Kanbari (or "Ghanbari"), 65, was summoned to the Karaj Islamic Revolutionary Court on July 27th to face charges of "propaganda against the system." She had also been ordered to go to a religious leader for "instruction," where she was directed to return to Islam.
Mahrokh was originally charged in December 2018 after three agents raided her home, confiscating mobile phones, Bibles and other Christian materials. Around that time, she was forced to endure ten days of intense interrogation before being released on bail.
When she appeared before the court, the ruling judge, who was characterized as being "very rude," attempted to humiliate Mahrokh for disagreeing with him. The trial resulted in the accused senior woman being sentenced to one year in prison; a verdict that she can appeal. For more information on the persecution of Christians in Iran, click here.
Pray that Mahrokh's appeal will be successful and that all charges against her will be dropped. In the meantime, ask the Lord to grant her physical and emotional strength as she faces imprisonment, and needed favour during the appeal process. May all those around her witness the love and grace of Christ being exemplified through her countenance, encouraging them to acknowledge Him as their Saviour as well.