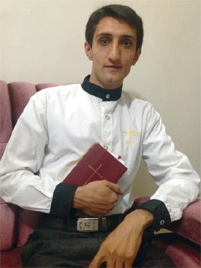 Ebrahim Firouzi has been imprisoned since 2013 on charges including "actions against national security." He was originally sentenced to one year in prison, followed by two years of exile. However, after serving the first year, he was re-tried and sentenced to an additional five years.
We are pleased to announce that Ebrahim was released from Rajaei Shahr prison on October 26th. While he still must serve two years of exile in the Sarbaz region of southeastern Iran, this Christian young man has been allowed temporary release to sort out his personal affairs.
Ebrahim states that he is in good health and happy to receive calls from friends. In addition to his prayer request for more patience -- specifically when feeling upset or angry -- he asks that we pray for a friend in prison who has unspecified urgent needs. For more details on Ebrahim and other Christians facing persecution in Iran, go to our country report.
Join with us in praising God for Ebrahim's release from prison, as well as his reported good health. Pray for his emotional well-being, including the need for peace while preparing to serve time in exile. May his friend and the many others suffering in prison because of their faith in Christ also receive needed ministry, strength and encouragement as they await their hopeful release.