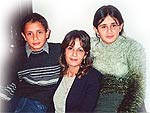 Those who have been following the case of Jordanian widow, Siham Qandah, realize the ongoing battle she has faced to secure custody of her children. In April, a judge ruled in her favour; a decision that was appealed by her Muslim brother who had been given custody and was allegedly misusing funds intended for the care of the children. According to a June 16 press release from Compass Direct, the Appeals Court ruled on June 13 confirming the April decision. According to Qandah's lawyer, this is a final decision that cannot be appealed, thus finally securing her custody of her children.
Qandah now intends to open a small shop in her home town of Husn in northern Jordan, where the family attends the Husn Baptist Church.
For more information and a history of the Qandah's case, as well as details on Christianity in Jordan, click here.