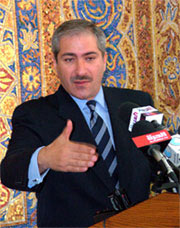 Nasser Judeh
Jordan has expelled and denied residence permits to at least 27 foreign Christians in 2007, according to a February 26 report from Compass Direct. The acting Foreign Minister of the country, Nasser Judeh, confirmed on February 20 the expulsions of missionaries operating "under the cover of doing charitable work." The measures violated Article18 of the International Covenant on Civil and Political Rights which was adopted by Jordan in 2006.
Recent expulsions included two Egyptian pastors married to women of Jordanian citizenship. The two pastors were deported to Egypt in early February. Similarly, a foreign Christian left Jordan on February 18 after police ordered her to vacate the country by February 20. She used to attend an Arabic-speaking church and was accused by the authorities of studying Arabic to hide her work evangelizing Muslims.
Ask God to raise more church leaders and other servants of the Lord in Jordan to continue His work in the nation (Matthew 9:36-38). Pray for the Lord to embolden Jordanian Christians to carry on spreading the Gospel to the lost.
For more information on the persecution of Christians in Jordan, go to the Jordan Country Report.