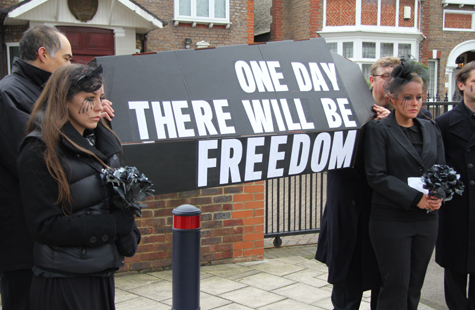 Supporters, with faces painted with running tears,
raised a voice at the North Korean Embassy in London.
Photo: Release International / Crossfire

A funeral procession for freedom was staged by VOM's sister mission in the UK, Release International, on January 20 outside the North Korean Embassy in London. Release International called on North Korea's new leader, Kim Jong-Un, to reverse the nation's reputation as one of the worst persecutors of Christians.
To the beat of a drum, Release International's supporters accompanied a coffin to the Embassy. Dressed for mourning, their faces painted with running tears, they staged a prayer vigil. A 52,000-signature petition was also presented to the Embassy, calling for religious freedom.
The coffin signified the death of freedom in North Korea under the previous leadership. After the petition was handed in, the coffin lid was opened and white balloons released -- a sign of hope for a new beginning.
"With the country's new young leader, now is the time for change," said Release International's CEO, Andy Dipper. "Christians are treated as political prisoners and held in prison camps, which have been likened to concentration camps.... Because of their faith they are detained, brutally tortured and removed from society. Many are forced to flee the country they love to avoid terrible persecution and oppression. Given a chance to practice their faith freely, North Korean Christians would work to support North Korean society and unity."
Pray that North Korean Christians will remain steadfast to God in every circumstance they face. Pray that religious freedom will soon be respected. Ask God to work powerfully in the life of Kim Jong-Un. Pray that Christians around the world will be dedicated to pray for believers in North Korea.
For more information on our brothers and sisters in North Korea, visit the North Korea Country Report.