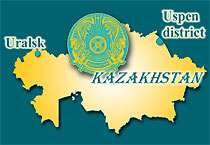 Several Christians throughout Kazakhstan have been harassed and assaulted by authorities in recent weeks, according to an August 27 report from Forum18.
In the district of Uspen, Pavlodar province, Kazakhstan, police broke into a local believer's home where four members of the Grace Presbyterian Church were staying on August 5. They accused the visiting Christians of "illegal" religious activity. They also beat Safura Mil, a local woman who had been praying with the church members, until she agreed to sign a statement claiming that she had been forced to submit to a "religious ritual." One of the church members, Kayrat Zhgangozhin, was detained for questioning for several hours.
That same evening, officials broke into the home of Valentina Fischeva, the host of the prayer meeting and seized identity documents of the Grace Presbyterian Church members. At last report, Zhgangozhin and another church member, Ramil Imankulov, were scheduled go to trial on August 31 on charges of "forcing individuals to conduct religious rites or participate in other religious activity" -- a charge which carries a fine of up to 20 times the minimum monthly wage in the country.
In a similar incident, ten members of the Uralsk City Council of Churches Baptist Church in western Kazakhstan were detained on August 7 while visiting the town of Jambeyt to share their faith with local residents. The believers were questioned, photographed and fingerprinted. They were released several hours later. However, at last report a local police official stated that the investigation against the believers was not finished and that they were expected to return for further questioning.
Pray that those detained will be released without charge. Pray that Kazakh authorities will cease their harassment of Christians.
For more information on the persecution facing Kazakhstan's Christians, go to the Kazakhstan Country Report.