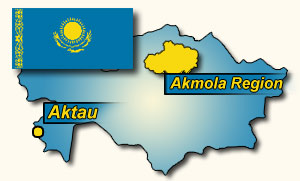 Two Christians, Viktor Leven and his brother, Didrikh, are facing prosecution for taking part in religious worship without state registration in Akmola Region, Kazakhstan, according to a November 5 report from Forum18. On October 14, Viktor, who was born in Kazakhstan but has German citizenship, was found guilty of "carrying out missionary activity without local registration" (Article 375-3 of the Administrative Code), an offense which prescribes a fine and/or deportation to foreigners or people without citizenship. He was fined a total of 6,480 Tenge (approximately $45 CAD) and ordered to be deported. He has since had his fine and deportation annulled on appeal -- a decision which local Christians see as a result of the court recognizing "that he was not a missionary and had not been sent to Kazakhstan for this...he lives here." On October 28, Didrikh was found guilty of violating Article 374-1 which forbids "leadership or participation in the activity of an unregistered social or religious organization." He was fined 129,600 Tenge (approximately $900 CAD), which is 100 times the minimum monthly wage. He reportedly plans to lodge an appeal to the same Akmola Regional Court which overturned Viktor's punishment.
Also in Kazakhstan, Feruza Utegenova, a member of New Life Church in Aktau on the Caspian Sea, was deported to Uzbekistan on November 5. She had been convicted and fined in June for "carrying out missionary activity without local registration" (Article 375-3) after she distributed a Christian children's magazine to a 12-year-old girl living near her home.
Pray that the charges against Didrikh will be dropped. Pray for strength and guidance for Feruza as she seeks to serve Christ amid her trials. Pray that authorities will cease their harassment of Christians in Kazakhstan.
For more information on the persecution facing Kazakhstan's Christians, click here.