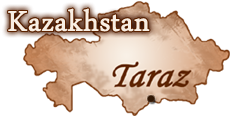 Pastor Yerzhan Ushanov of the New Life Protestant Church in Taraz could face up to two years' imprisonment if criminal charges of harming an individual's health, brought by the National Security Committee (KNB) secret police, reach court. The KNB claim a visitor to the church suffered after Pastor Yerzhan prayed for him using hypnosis -- the second time the secret police have brought such charges against a Protestant pastor in Jambyl Region. "This is not the first time the authorities in southern regions of Kazakhstan bring such absurd accusations against pastors for allegedly using hypnosis, while in reality all they do is pray for the sick," New Life Church members complained. Extremism and Terrorism Police then raided the church's Sunday worship after an alleged complaint of food poisoning, and the KNB searched Pastor Yerzhan's home.
Pray the truth of this case will come to light. Pray for healing of the church visitor; may this act as a witness to God's mercy, goodness and authority. Pray the Lord will strengthen the faith of Pastor Yerzhan and his congregation.
Find out more about the suffering of Christians in Kazakhstan at the Kazakhstan Country Report.