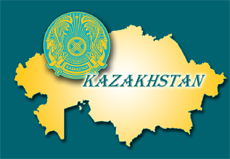 After legal residence in Kazakhstan for 15 years, marriage to a Kazakh citizen and having a two-year-old daughter, Russian citizen Leonid Pan was, in mid-August, denied his application to renew his residence permit because he volunteers to preach in his local Protestant church. The local Internal Policy Department had already refused permission for him to become leader of the church. "How can the Migration Police, without having a Court order, demand that Leonid leave the country?" church members complained to Forum 18. The KNB secret police denied to Forum 18 that it was involved in the expulsion.
Meanwhile, in August, another Baptist was fined nearly five months' official minimum wage for holding an unregistered worship service. State restrictions on religious communities are likely to increase with the new Religion Law amendments, due in Parliament this autumn.
Pray Leonid and his family will be able to remain together. Pray the Lord will grow His church in Kazakhstan in number and in faithfulness, in spite of the current restrictions and the threat of further law amendments. Pray for all those in authority in Kazakhstan.
To understand this former Soviet republic, go to the Kazakhstan Country Report.