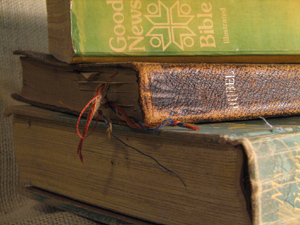 Photo: Flickr / GeoWombats
A previous court decision involving Baptist believer Vyacheslav Cherkasov, ordering that the Bibles confiscated from him be destroyed, has been overturned and the Bibles returned. Unfortunately, the fine remains as originally ordered. (Click here to read the previously reported prayer alert.) A journalist by the name of Sergei Duvanov believed it was possible for the book-burning decision to be overturned if greater awareness was made over the plight of the accused. Thankfully, due to the diligence of human rights defenders in Oslo who have given the case wide publicity, and the prayers of concerned Christians around the world, the outcome of the confiscated Bibles has been favourable.
However, another situation serves as a reminder of our need to continue praying that the government in Kazakhstan will grant believers the freedom to gather together for times of worship and prayer. On April 4th, police raided a prayer service involving seven members of a small Baptist church in Ayagoz (East Kazakhstan Region) for holding unregistered religious services. Of the seven who were fined the equivalent of nearly two months' local average wages for a teacher were a couple of grandmothers in their late 70s.
Pray that God will recompense these Christians for their financial loss, blessing them abundantly for their faithfulness to Him and His work. May He also touch the hearts of the political and judicial leaders, helping them to realize the importance of following the statutes of His Word in order to make positive progress and thrive as a nation.
Important Note Concerning Previous Azerbaijan Alert: Since last week's Persecution & Prayer Alert, The Voice of the Martyrs ministry has received clarification from Forum 18 News that it was Hamid Shabanov's wife, Hinayat, who was fined. (Hamid was away in Russia at the time.)