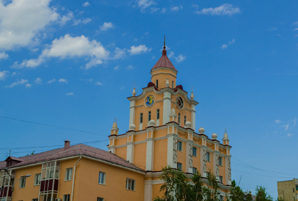 Christians were gathered for worship at the New Life Church in Kyzylorda when "anti-extremism" police burst into their meeting on February 25th. According to authorities, they had received a report that a child was allegedly present in the service, and thus they were obligated to investigate.
During the raid, those present were questioned about why they had come, and their faith was ridiculed. Video recordings were made of congregation members in attendance and literature was confiscated for "expert analysis," despite police officers having no search warrant. The pastor, Serik Bisembayev, is also being investigated for "inciting discord." If charged and convicted, the church leader could face up to ten years in prison.
Criminal Code Article 174, under which Pastor Bisembayev is being investigated, has frequently been used against those with whom the authorities disagree -- including political figures, trade unionists and religious leaders. The United Nations Commission on Human Rights, and other advocates, have raised concerns about the overly broad and unclear nature of the law.
Remember Pastor Serick Bisembayev as he faces this investigation, praying that he will be able to continue in ministry despite the uncertainty. Pray for God to also strengthen the other Christians in Kazakhstan who are facing harassment because of their faith. May those who interrogated them be drawn to the Lord through the words they heard during the raid.