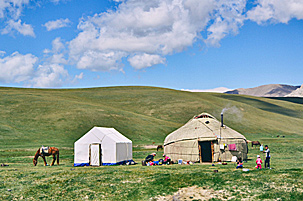 A church in Kyrgyzstan, attended by many former Muslims, has been ordered to cease operations. Twice in the past few months, Sunday services have been interrupted by a group consisting of local officials, representatives from the Ministry of Internal Affairs, and others. While the church tried to settle the conflict, the opposing group has continued to issue threats and insults. "You will not be able to live and carry out your ministry here," members of the church were told.
Pastor "Miran" (his name has been changed for security reasons), who led the church for over ten years, is also a convert from Islam. After converting to Christ, the school where he was formerly employed as a teacher threatened to fire him. Over the years, he faced false accusations and, as a result, has since not been able to find paid work. For the safety of those involved, the location of the church and further details cannot be made public.
As you uphold "Miran" and other members of his church in prayer, ask that these believers will experience the Lord's abiding peace and provision for their every need. Pray that they will also be able to continue meeting together for needed fellowship and spiritual encouragement. In a broader sense, please intercede for the nation of Kyrgyzstan, praying that the truth of God's Word will be made known among its people -- resulting in the salvation of many more precious souls.