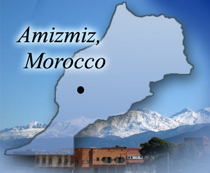 On February 4, approximately 60 Moroccan authorities raided the home of a Christian in the city of Amizmiz where a Bible study was being held for believers from around the country. Authorities seized Bibles, books, two laptops, a digital camera and one cell phone. They also detained 18 of the believers, including five small children, for 14 hours and interrogated them. The visiting Christians were then released and sent back to their homes. One of the detained, a U.S. citizen, was deported immediately after interrogation. A report by the Interior Ministry claimed that the raid took place "following information on the organization of a secret meeting to initiate people into Christianity, which would shake Muslims' faith and undermine the Kingdom's religious values." (Source: Compass Direct)
Pray that authorities will repent of their unjust treatment of these believers. Pray that religious freedom will be truly recognized throughout Morocco. Pray that Christians in Morocco will work in unity and set their minds on Christ as they serve the Lord amid opposition (1 Corinthians 1:10).
For more information on Christians in Morocco, click here.