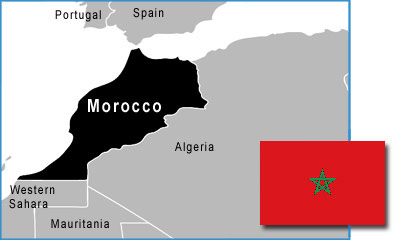 During a recent court hearing, a Moroccan Christian man was ordered to serve a two-and-a-half-year prison sentence for evangelizing Muslims. On August 28th, police raided the home of 34-year-old Mohamed el Baldi, of Ain Aicha, confiscating his Bible and about 30 additional Christian books. Following the raid, Mohamed was arrested and interrogated by police. At the court hearing, he was sentenced to 30 months in prison and fined 5,000 dirhams (about $600) for "shaking the faith of a Muslim."
Having come from an Islamic background himself, Mohamed converted to Christianity approximately seven years ago. It was mentioned that his elderly mother behaved hysterically at the court hearing, pleading to Allah for vengeance on whoever "tampered" with her son's mind. While under pressure during the police interrogation, Mohamed disclosed the names of other Christian converts, as well as information on several missionaries who had attended secret Christian meetings in the cities of Maknes, Nador and Rabat.
This is not the first time the Moroccan Ministry of Interior has arrested, imprisoned or expelled Moroccans and foreigners for practising the Christian faith. In December of 2009, a series of government raids led to the arrests of numerous Moroccan Christians and the expulsion of five foreign missionaries. Article 220 of the Moroccan Penal Code is used to restrict Christians from propagating their faith. To learn more, review the Morocco Country Report.
Pray that Mohamed will be spiritually strengthened and encouraged while in prison. May the Holy Spirit also work in the lives of the judges and lawmakers associated with the Moroccan legislative and judicial systems, giving the officials a great awareness of His presence...so religious freedom and justice may be granted to the followers of Christ. Also pray for God's protection and blessing upon the fellowship of Christians in Morocco, including those believers who've recently had their identities exposed as a result of this case.