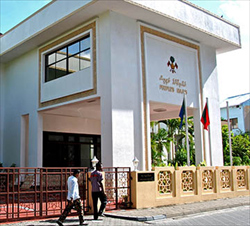 Police in Maldives arrested and held Shijo Kokkattu, a 30-year-old teacher from India, for more than two weeks before deporting him earlier this month for keeping a Bible in his home, according to a foreign source in the capital city. Shijo was arrested during a police raid in late September prompted when his colleagues found Christian materials on a school computer he had used and reported it to authorities.
The country's 2008 Constitution is decidedly anti-Christian and states that a "non-Muslim may not become a citizen of the Maldives." Expatriates following other religions can practice their faith only individually and within their respective homes. Last month, the Ministry of Islamic Affairs published new regulations to control propagation of non-Islamic religions in the country. Any violation is punishable by imprisonment of between two and five years, banishment or house arrest. Foreigners who are found proselytizing are to be deported.
Please pray that Shijo's position would be restored and that the Maldivian authorities would relent in their efforts to further restrict and repress the Christian faith. Please pray that Christian leaders and teachers would continue to persevere in their efforts in Maldives despite the risks to their careers and well-being. Pray that religious freedom will be respected in Maldives.
Go to the Maldives Country Report for more on persecution in Maldives.