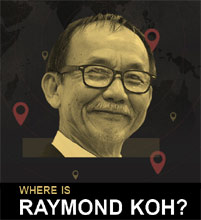 On February 13th, 2017, Pastor Raymond Koh was abducted from the streets of Malaysia. He hasn't been seen or heard from since, and his car has never been located. Video footage of the entire crime was captured by nearby security cameras.
Early in 2019, Malaysia's Human Rights Commission issued a report blaming the abductions of Pastor Raymond and others on the "Special Branch" of the country's police force. Yet, as of this present time, no one has been held accountable, and Pastor Raymond's whereabouts and condition remain unknown. A previous report is available here.
The Voice of the Martyrs ministry has initiated a campaign calling for the Malaysian government to explain the pastor's mysterious disappearance. The petition will be delivered directly to the Malaysian Embassy in Washington, D.C. To date, more than 36,000 people have signed the petition. You may add your name today by going to VOMCanada.com/raymond.