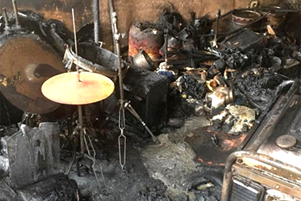 For years, the small Christian minority in the west African nation of Niger has lived peacefully alongside the Muslim majority. In recent years, however, the rise of jihadist groups such as Boko Haram has led to an escalation in tension, including the destruction of church buildings and violent attacks on Christians.
In an October 11th incident, unknown assailants looted and burned a church building in Niger's capital, Niamey. All that was left was a charred shell of the building with debris and broken musical instruments scattered across the floor. A local church leader, Pastor Eduard, has asked: "Please pray that the Lord supports them and safeguards the churches of Niger."
Remember the Christians throughout Niger as they face pressure from militant groups seeking to divide and destroy. Pray that the members of the recently attacked church will find the resources necessary to rebuild and replace all that was lost. May each believer be given the courage needed to reach out to their neighbours with the love of Christ and the proclamation of the Gospel.