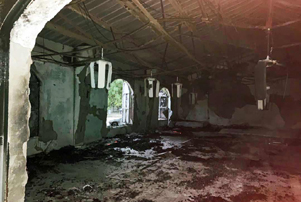 A mob in the Zaria district of Niger's second largest city, Maradi, set fire to an Assemblies of God church in retaliation for the arrest of a prominent imam. In addition to the destruction of the church building, the pastor's car was also torched. Witnesses say that groups of young people also set up barricades with burning tires in protest.
The imam, Sheikh Rayadoune, was detained by authorities on June 15th after presenting an inflammatory sermon the day before. In his Friday message, the imam criticized a proposed religious law as "anti-Islamic." Immediately following his arrest, supporters took to the streets, taking their anger out on Christians. Upon release the next day, he called on his supporters to cease any additional violence. Sheikh Rayadoune further stated that his harsh disagreement with the legislation came from a poor translation of the bill.
Pray for the members of this attacked church as they now undertake repairs to their building, while also attempting to rebuild relationships with the Muslim members of the community. Thank God that the violence did not continue to escalate, causing physical harm or loss of people's lives. Intercede for the continued outreach of God's Word -- a message conveying His love and salvation -- throughout Niger.