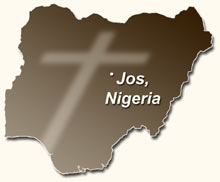 At least 100 people were killed, hundreds injured and homes and religious sites burned when mob violence erupted between Muslims and Christians in Jos, Nigeria on January 17. The violence was reportedly sparked by Muslim youths disrupting a worship service at the St. Michael's Catholic Church in the nearby city of Nasarawa Gwong. Muslims then continued attacks in the area, burning the buildings of the Christ Apostolic Church, Assemblies of God Church, three branches of the Church of Christ in Nigeria and two buildings of the Evangelical Church of West Africa. The Nigerian army has been summoned to try to restore order to the region, but many believers remain fearful of further clashes. (Sources: Compass Direct, Christian Solidarity Worldwide)
Pray that law and order will be restored in this region. Pray that Christians will not retaliate with further violence but will show Christ-like love. Ask God to give strength to Christians in Jos to remain steadfast in their faith (1 Peter 5:8-10). Pray for those who have lost loved ones and property in the riots.
To find out more about the struggles Christians face in Nigeria, click here.