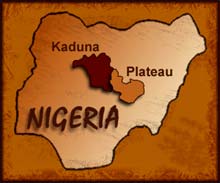 Muslims recently attacked Christian villages and killed at least eight Christians in Kaduna and Plateau states of northern Nigeria. On July 3, five believers, including a primary school teacher and mother of six children, were killed by Muslims in Kizachi village in Kaduna State. The Muslims also burned down five homes belonging to Christians. Local sources reported that the police had stopped protecting the village on July 2 after the government failed to pay their salaries.
The next evening, Muslims armed with guns and machetes invaded Ganawuri community, near Jos. Three Christians are presumed to be dead. A spokesperson of the Nigerian military's Special Task Force (STF) said the attackers were suspected herdsmen from neighbouring communities of Kaduna State. STF received an emergency call and, upon response, a fire fight ensued with the attackers. One of the attackers was shot and six were arrested. Those arrested have since been handed over to the state police for further investigations.
This latest violence came on the heels of a March 7 attack against Christians in Jos in which approximately 500 people, mainly women and children, were murdered (click here for more information). It is estimated that many more thousands of Christians have been killed in northern Nigeria since the introduction of Shariah law in 2001. (Source: International Christian Concern)
Please pray against further violence and unrest in Nigeria. Ask the Lord to give strength and wisdom to those in authority to help them deal with this situation. Pray that He will comfort those who are suffering. Pray that the Lord will use the testimony of believers in Nigeria to strengthen His church and greatly add to its number.
For more information on persecution in Nigeria, please visit the Nigeria Country Report.