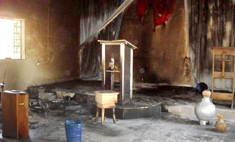 Militants set a Borno state church
on fire on Christmas Eve.
At least 38 people were killed in deadly bomb attacks in northern and central Nigeria over Christmas weekend. On December 24, four explosions went off in two Christian neighbourhoods in the city of Jos, Plateau State. More than 28 people were seriously injured in the blasts. Christians were also attacked in Borno state on Christmas Eve when heavily armed militants set a church on fire. The church's pastor and four elders were burnt to death. The Islamists also shot and killed three church members outside the building. Islamists had reportedly been threatening to disrupt the Christian celebrations in Jos. On December 28, members of the Boko Haram Islamist group posted a statement on their website, claiming responsibility for the attacks. Both regions of Nigeria have seen deadly violence between Muslims and Christians in recent years (click here for more).
Ask God to comfort those affected by these attacks. Pray God's peace will reign throughout Nigeria. Pray Christians will respond with Christ-like love, not retaliation to these attacks. Pray Nigerian Christians will draw near to God and rely on Him to equip them to stand for Him, even in a climate of violence.
For more on the sufferings of Christians in Nigeria, go to the Nigeria Country Report.