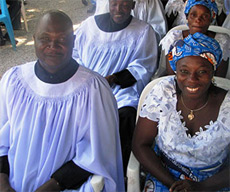 Rev. David Usman and his
wife at his 2009 ordination
Photo: Compass Direct
Two Christians were recently killed by members of the Islamist sect Boko Haram in the northeastern town of Maiduguri, Nigeria. Pastor David Usman (45) and Hamman Andrew, the church secretary, were shot dead near the church in an area of Maiduguri called the Railway Quarters. In 2009, when the church was set on fire by militants, Pastor David had reportedly raised the problem of Boko Haram with his superiors and commented that the Government needed to do more to stop their aggression.
Boko Haram, a sect committed to extending strict Islamic or Sharia law across Nigeria, has been responsible for several recent attacks in the region, including deadly bombings. The violence has been widely interpreted as a protest against April's national elections, which returned Christian incumbent Goodluck Jonathan to power. The fighting has left many in the Christian community terrified for their lives. "We no longer feel free moving around the city and most churches no longer carry out worship services for fear of becoming targets of these unprovoked attacks," said one local pastor.
Thank the Lord for the life and faith of Pastor David and Hamman. Ask God to surround their grieving loved ones with his comfort. Pray that Nigerian Christians will be emboldened and sustained by the Holy Spirit as they serve the Lord in a climate of intense violence. Pray that those who persecute Christians in Nigeria will repent and embrace Christ as Lord.
For more information on suffering Christians in Nigeria, please visit the Nigeria Country Report.