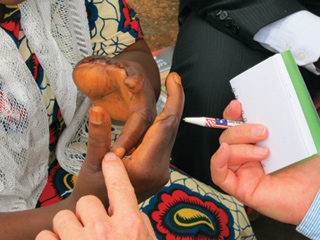 Dr. Paul from VOMedical, a ministry run by VOM-USA, helps
a woman injured during a Plateau state attack in 2010.

Dozens of Christians have been killed by Muslim extremists in Nigeria's Plateau state in recent weeks. On September 4, eight members of a Christian family were shot and butchered with machetes in Tatu village. The next day, seven Christians were killed in the village of Zakalio. Another four Christians were murdered on September 5 after Muslims attacked the Christian communities of Dabwak Kuru and Farin Lamba. On September 8, extremists attacked Tsohon Foron village and killed 10 Christians. The following evening, Muslim attackers killed 14 believers, including a pregnant woman, in the village of Vwang Kogot. The Muslims, aided by men in Nigerian army military uniforms, then raided the village. A pastor in the area said, "No help or relief from the government has been received by our people.... We've just been living with the horror of not knowing what will happen next."
Pray that those who lost friends and family members will be filled with the joy that comes from knowing that they will see them again at the coming of our Lord Jesus Christ (1 Thessalonians 4:15-18). Pray that the perpetrators of these attacks will repent and come to faith in Christ. Pray for peace in Nigeria.
For more on persecution in Nigeria, please visit the Nigeria Country Report.