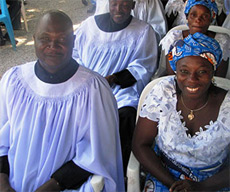 Rev. David Usman was killed by
members of Boko Haram in a
separate incident earlier this year.
Photo: Compass Direct News

On November 4, al-Qaeda affiliate Boko Haram launched attacks in Damaturu and Potiskum in Yobe State and in Maiduguri, Borno State. The death toll from the coordinated assaults presently stands at 150 and is expected to rise. Nine churches were targeted, along with mosques, a bank, an anti-terrorist court, police stations, and army posts. Boko Haram spokesman Abul-Qaqa has reportedly stated, "More attacks are on the way."
In Damaturu's mostly Christian New Jerusalem district, six churches were bombed. According to one resident, "The whole city is traumatised." Nigeria's The Nation reported on November 7 that "in spite [of] their churches being burnt, Christians in Damaturu yesterday defied the security panic and held their Sunday service in [the] open air at the premises of their burnt churches."
Thank the Lord for the great unity and faithfulness displayed by these Christians; ask the Lord to protect and shelter them from further attacks. Pray for President Goodluck Jonathan and all those in authority in Nigeria; pray that the Lord will grant them strength and wisdom to deal with this Islamist group. Pray for the members of Boko Haram, that they will come to know Jesus Christ.
To learn more about persecution in Nigeria, please visit the Nigeria Country Report.