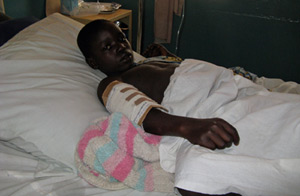 Shadrack Luka, eight, was among 12 Christians wounded
in a church attack near Zonkwa, Kaduna state.
Photo: Compass Direct News

A murderous, four-hour rampage in early November in the eastern region of northern Nigeria left 150 people dead -- at least 130 of them Christians, according to church sources. Ten church buildings were also bombed and hundreds of people are still missing after more than 200 members of the Islamic extremist Boko Haram sect stormed the Yobe state capital on November 4. The attacks by Boko Haram were motivated by anti-Christian sentiments. Witnesses say the terrorists asked Christians they met to recite the Islamic creed, and those who could not do so were instantly slaughtered.
The day before the terrorist attack, an armed Muslim gang not believed to be affiliated with Boko Haram, killed two Nigerian mothers and injured 12 others including an eight-year-old boy in a raid on a Catholic church in Kaduna state. "As these Muslims began shooting, they shot Mrs. Justina Isaac, a mother of three, who had all the while been hanging around by the window outside the church listening to my teachings in the church," said a Catholic seminary student who was leading worship at the time. "And when she was felled by the bullets, the cry of her baby attracted another woman, Mrs. Hassana Luka, who came out of her house close to the church to find out what the problem was, only to be killed too." The following night, the gang went on to attack a Christian village in the same area killing another Christian and injuring one other.
Please pray that those who are beating and killing Christians in northern Nigeria will see their sin and will turn to Jesus and repent. Pray that the Lord will protect Christians in the region and that the families of those murdered will find peace and comfort in Him.
To learn more about persecution in Nigeria, please visit the Nigeria Country Report.