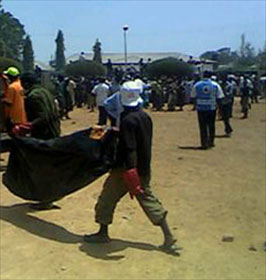 Emergency workers carry away the body of one killed
in the recent suicide bombing in Jos, Nigeria.
Photo: Compass Direct News

A suicide bomber has killed eight people, including two boys and an expectant mother, after detonating an explosive device just outside a church in Nigeria. The car bomb that was detonated outside the gate of St. Finbarr's Catholic Church on March 11 could be heard up to two kilometres away, shattering the glass in buildings within a 200-metre radius. It is believed the attacks are the work of Boko Haram, an Islamic extremist group that seeks to impose a strict version of Shariah (Islamic law) in Nigeria.
The bombing has led to outbreaks of more violence, and some state health and police sources have reported unconfirmed "reprisal" attacks against Muslims. Witnesses have also reported additional deaths of Christians at the hands of military personnel. Some sources said soldiers killed four Christians when they were confronted about how the car containing the bomb had made it past security.
This is the second such bombing in the Christian community of Jos in Plateau State in recent weeks. An earlier bombing at a church in late February killed several people (for more information, click here).
Please pray that those mourning the loss of loved ones will find comfort in Christ. Pray for a peace that surpasses all understanding for those living amidst the ensuing violence. Pray that God will give Nigerian Christians the patience to entrust true justice into the hands of God (Romans 12:17-21).
For more on the persecuted Church in Nigeria, go to the Nigeria Country Report.