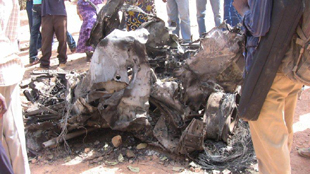 Debris from an earlier suicide bombing in Nigeria
On April 29, believers worshipping at Bayero University in the northern city of Kano, Nigeria, were targeted by militants from Boko Haram. The jihadists attacked the open-air service held outside the faculty of medicine, throwing explosive devices amongst the worshippers then chasing and shooting believers as they fled. They also attacked a worship service being held in the sporting complex, again throwing explosive devices amongst the believers who were then chased and gunned down as they ran away. Twenty-one people were killed and more than 20 were treated in hospital for gunshot wounds.
In an almost simultaneous attack, six Boko Haram gunmen burst into a chapel in the northeast city of Maiduguri, spraying bullets throughout the sanctuary. The pastor and three others who were preparing to serve communion were killed, while others were injured.
Ask God to surround those who are grieving with His love, peace, and comfort. Pray that the perpetrators of this violence will repent and turn to Jesus Christ. Pray that Christians in Nigeria will keep their eyes on Jesus, persevere in their faith, and not grow weary or lose heart (Hebrews 10:32-39; Hebrews 12:1-3).
Go to the Nigeria Country Report for more on Nigeria's persecuted Church.