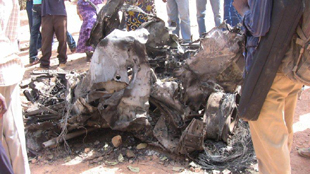 Many churches have been attacked this year
by the militant group Boko Haram.
Nigerian police arrested a government official after gunmen killed 19 Christian worshippers and two soldiers in the town of Otite, Kogi State, on August 6. The police arrested Yahaya Karaku, Special Advisor to the governor of Kogi State, after he was suspected of involvement in an attack at Deeper Life Church. The pastor of the church was among the victims.
The arrest of the government official is another indication of the possible infiltration of radical Muslims in the Nigerian government structure. In his speech at a Nigerian church in January, Nigeria's President Goodluck Jonathan, a Christian, said that his government had been infiltrated by members of Boko Haram.
Nigerian Christians have been coming under relentless attacks from members of Boko Haram, an Islamic militant group. This year alone, militants have killed dozens of Christians. The group fights to establish an Islamic state throughout Nigeria.
Thank the Lord for this arrest; pray that He will expose the deeds of more perpetrators. Pray for Goodluck Jonathan and members of the Nigerian government, that the Lord will grant them wisdom and discernment. Pray for members of Boko Haram, that many will come to repentance through the work of the Holy Spirit.
Go to the Nigeria Country Report for more on Nigeria's persecuted Christians.