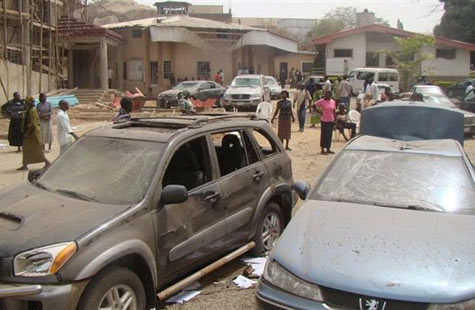 Boko Haram has attacked many churches
and other Christian sites this year.
Boko Haram, an Islamic militant group, invaded the off-campus hostel of Federal Polytechnic College on October 1 and murdered up to 30 students. The attack took place in the city of Mubi in remote Adamawa State, located in north-eastern Nigeria.
Gunmen reportedly rounded up the students and demanded to know their names. If they gave a Christian name, they were given a chance to deny their Christian faith and convert to Islam by reciting the shahada (Muslim prayer of faith). If they refused and stood firm in their Christian faith, they were either shot or stabbed to death on the spot. Survivors say some Muslims were also murdered, either mistakenly or intentionally. Those who gave Muslim names were required to say a Muslim prayer to prove their faith. If they could not recite the prayer, they were killed.
President Goodluck Jonathan has called the gruesome attack "sad and shocking" and has ordered an investigation. Some officials have suggested the massacre may have been linked to a recent student election. Police have reportedly arrested many suspects.
Please pray for those mourning the loss of family members or friends. Pray that, in the midst of their grief, they may be filled with the joy that comes from knowing that they will see their loved ones again at the coming of our Lord Jesus Christ (1 Thessalonians 4:15-18). Pray the Christians in the community will not retaliate but will show Christ-like love and forgiveness.
For more on Nigeria's persecuted Church, go to the Nigeria Country Report.