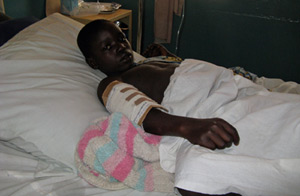 Shadrack Luka, eight, was among 12 Christians wounded
in a previous church attack near Zonkwa, Kaduna state.
Photo: Compass Direct News

A suicide bomber forced his way into St. Rita's Catholic Church in Kaduna City on October 28, detonating an explosion that killed at least seven worshippers and left dozens with severe injuries.
According to eyewitnesses, after being denied entrance to the church grounds at the gate, the bomber reversed his vehicle and rammed into the church's perimeter wall, destroying the area reserved for the church's choir. The force of the explosion also caused severe structural damage to several nearby homes and buildings.
Please pray for the grieving and the injured. Ask the Lord to bless the efforts of President Goodluck Jonathan and all those in authority who are seeking to bring an end to the violence. Pray the Lord will give Nigerian Christians the desire and the ability to forgive their attackers and respond with love.
To learn more about persecution in Nigeria, please visit the Nigeria Country Report.