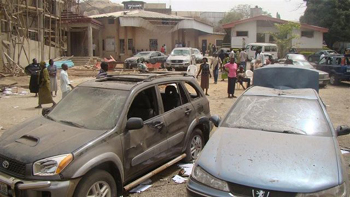 Damages from a previous bombing in Nigeria
At least twenty people were killed on March 18th by a series of bombings targeting buses in a predominantly Christian neighbourhood of Nigeria's northern city of Kano. A rescue official on the scene reported: "I saw three buses on fire. One of them was fully loaded with passengers waiting to leave the station at the time of the blasts." While officials suspect the series of explosions were likely initiated by suicide bombers, investigators are still collecting evidence to confirm that theory.
As the bombings took place in a predominantly Christian area of Kano, officials suspect that Christians were most likely being targeted by the attacks. Sadly, too many innocent victims in northern Nigeria have either been killed or injured by Boko Haram's heinous acts of violence. The official death toll is expected to rise as security officials continue to examine the scene of the most recent bombing. For other reports on Nigeria, go to the Nigeria Country Report.
Pray that these believers in Nigeria will find refuge in the Lord and not be overcome by fear (Psalm 46). May they follow Christ's example in both their reaction to this unwarranted violence and their attitude toward the perpetrators (1 Peter 2:21-23). Also pray that the Lord's comforting presence and promised 'peace that surpasses all understanding' be experienced by the families of the victims.