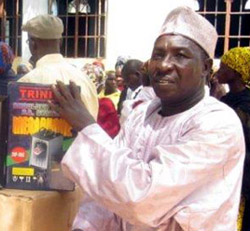 Rev. Faye Pama often assisted with the
distribution of mission relief packages.
Photo: VOM Ministry Partner
Gunmen believed to be members of the deadly Islamic extremist group, Boko Haram, killed Rev. Faye Pama, secretary of the Borno state chapter of the Christian Association of Nigeria (CAN). They reportedly followed the long-time Christian leader from his church building (where he was holding an evening Bible study) to his house in the Government Reservation Area of Maiduguri. The assailants dragged the pastor from his home and shot him outside, despite the desperate pleas of his daughter to spare his life. Rev. Pama was the father of three children.
The shooting occurred on May 14th, within an hour of Christian President Goodluck Jonathan declaring a state of emergency in Borno, Yobe and Adamawa states. President Jonathan's declaration comes after April's gun battle in Baga (Borno state) between the military and Boko Haram which took more than 100 civilian lives. The militant group has reportedly killed thousands of people since 2009. For more information on this critical situation, click here.
As senior pastor of Rhema Assembly, Rev. Pama often spoke out against persecution of Christians in Borno state, the epicentre of Boko Haram attacks in north-eastern Nigeria. He had been involved in ministry leadership for more than 26 years. In a 2007 interview, the dedicated church leader had announced that he would not leave Borno state in spite of the dangerous risks he faced. Rev. Pama believed that only by showing love to Muslims could they be won to Christ "and not through fighting."
Please uphold Rev. Pama's devastated wife and three children, his ministry associates and congregation, and all who knew him through his very active role in community service. May God's comforting presence bring solace to their grieving hearts and an extra measure of strength as they cope with the aftermath of the tragedy. Ask the Lord to protect other Christian workers who are still ministering in this dangerous zone. Pray, too, for members of the Boko Haram who clearly need to experience God's transforming love and abiding peace in their own lives.