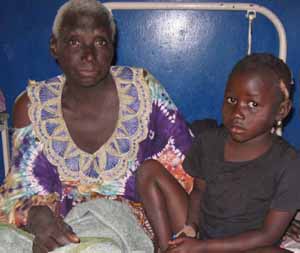 Bata Badugu, 75, and granddaughter Lydia,
both injured in Shonong attack
Photo: Morning Star News


More than 30 believers were killed on January 6th when hundreds of Fulani Muslim herdsmen, armed with guns and machetes, stormed Shonong village in Riyom Local Government Area, Plateau State. According to local Christians, the soldiers stationed at the village to protect the believers joined the herdsmen in the assault.
"I was shot by soldiers I ran to for protection. We were all trapped in the village as there was no way of escape for us. We ran to the premises of the church, and some soldiers followed us there. They were shooting and the herdsmen were shooting too. It was chaos and confusion everywhere," one survivor shared.
Dozens of homes were set on fire, and the cattle belonging to the villagers were killed or stolen. Approximately 15 believers were critically injured and, at last report, were receiving care at a Christian hospital. Of those killed, many were women and children.
As our Christian family in Nigeria face relentless attacks and trials, may they rest in the knowledge that the Good Shepherd is walking closely with them through this difficult time (Psalm 23). Intercede on behalf of those who are mourning. May they cling to the promise that their loved ones are now experiencing life to the fullest in heaven. Pray that God will work mightily in the lives of those who perpetrated this attack, drawing them into relationship with His Son Jesus.