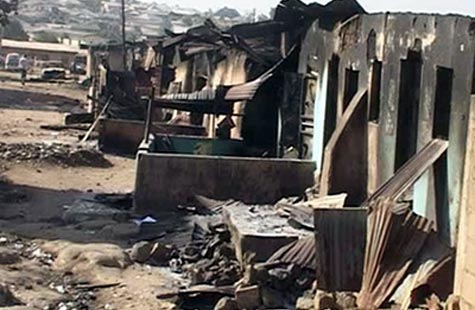 Militants burned down several houses & villages such as these.
Photo: Barnabas Aid
Boko Haram militants recently targeted Christians two times in less than a week in Madagali Local Government Area, Adamawa State. Adamawa is one of three northeastern states in which the Nigerian government declared a military state of emergency in May of last year.
Approximately 45 people were murdered on January 26th when assailants armed with guns and explosives launched an attack on a church in Wada Chakawa village. The militants killed a police inspector and sergeant who were guarding the building, before barring the doors and killing anyone attempting to escape through the windows. Others were held hostage for several hours. "We were all scattered by the attackers, and...those who were not able to escape were taken hostage, especially women, children and the elderly," a church member shared. The militants went on to burn down several houses in the area.
Just days later, on the evening of January 31st, Boko Haram gunmen attacked a church in Sabon Garin Yamdula village. Storming the building, the assailants killed 11 believers, including the church's pastor who died later in hospital. They also attempted to set the church ablaze, but were thwarted by local youths. At last report, two Christians were reported to be missing.
In the aftermath of these gruesome attacks, please bring those grieving the loss of loved ones to the Lord in prayer. May they look to Christ for strength each day, grace to forgive their attackers, and boldness to continue serving Him despite the risks. Also pray for the members of Boko Haram who perpetrated these attacks. May they lay down their weapons and their hate, and turn in faith to Jesus Christ. Pray that, as suffering overflows in this nation, our Christian family will look with longing and expectation to the day when there will be no more death, sorrow or pain (Revelation 21:4).