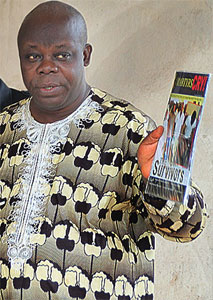 A man from Nigeria holds up copies
of the VOM-Nigeria newsletter.
Militants from the Islamic group Boko Haram murdered a VOM volunteer in Gwoza, Borno state, in late April. "His death shocked almost all the Christian community," reported another VOM worker in the country.
At the time of his death, the volunteer was delivering hundreds of VOM-Nigeria newsletters. He also blessed the ministry by using his own vehicle to transport victims of attack to hospitals and served as a contact person between VOM staff and others in the community such as widows, injured victims, Christian leaders and local pastors. His killers reportedly stole 500 copies of the VOM newsletter from his car, and pastors in the area are now praying that the newsletters will minister to the militants.
Christians in Gwoza, which is only about eight kilometres from the Cameroon border, have experienced repeated attacks from Boko Haram insurgents. Thousands have fled the city, and hundreds of homes, churches and businesses have been razed.
As we intercede on behalf of the Gwoza community, let us begin by expressing thanksgiving to the Lord for the dedication and ministry service of this faithful VOM volunteer. While we can rejoice that he is now experiencing life to the fullest, may we remember to pray for his family, friends and all those he kindly assisted in the community who are mourning his tragic death. Please also join the pastors of this area in praying that the stolen newsletters will greatly impact the lives of many militants, serving as a means of drawing them into relationship with the one true God. Finally, bring the entire country of Nigeria before Him in prayer, asking that He use His people to extend peace and grace amid the violence.
For more information on the tremendous trials our brothers and sisters endure in Nigeria, visit our Nigeria Country Report.