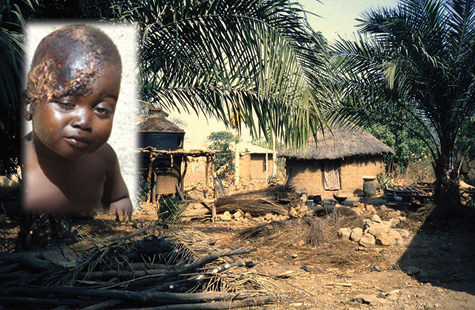 Pray that God's hand of healing and
blessing will be upon this little child.
Village photo: Flickr / Mike Blyth
After a brutal attack was perpetrated against Christian worshippers on Sunday, November 22nd in Attagara, a little three-year-old child by the name of "Joel" was running back home holding onto his Children's Bible when three Islamic insurgents grabbed him and forcibly sat him down.
According to an eye witness, one of the insurgents wanted to take the Children's Bible from Joel's hand but the little boy refused. The angered Muslim insurgent snatched the Bible by force and threw it into a nearby burning fire. Joel ran toward the fire to rescue his beloved Bible.
While struggling with a stick to remove his Bible from the fire, Joel was hit on the head with the butt of an AK-47 and pushed into the fire. Not satisfied, the insurgent proceeded to step on the young child's head, pressing it into the burning flames, all the while railing curses and abuses on the little boy, calling him a "stubborn infidel." After causing this incident, the heartless Boko Haram member then callously walked away, leaving the wounded child at the scene.
While we can be thankful that this young child's life was spared, let us cry out to God on behalf of Joel and others like him who have so unjustly suffered at the hands of Boko Haram...asking the Lord to bring justice in such an unjust world. Additionally, ask Him to protect and preserve His people (Psalm 140), including vulnerable children. Pray that the Lord will not only completely heal little Joel and the other victimized members of his Christian community, but that He would also bless them with a strong faith, great endurance, and an unquenchable desire to love and serve Him despite the attack.