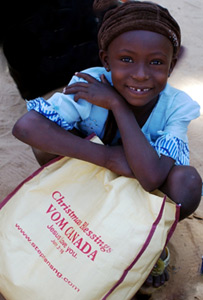 This child in Nigeria is so happy to receive
VOMC's Christmas Blessing package!



Nigeria, Africa's most populous nation, is divided between a mainly Christian culture in the south and a radical Islamic agenda in the north -- the latter of which is characterized by massive riots, bombings and plans to create an Islamic state.
Back in 2009, the Islamic extremist group Boko Haram, an al-Qaida ally, vowed to rid the north of all non-Muslim influence, including Christianity. Since then, more than 3,000 people have been tragically killed by the insurgents' target of Christian villages, churches and homes. Children were not exempt in the vicious attacks and, as a result, many have been left wounded, traumatized and/or orphaned. In another incident this year, which took place on April 14th, at least 270 Nigerian schoolgirls were abducted by Boko Haram. To date, more than 200 of the girls are still missing. (A previous prayer alert report on this incident can be found here.)
During this month of December, The Voice of the Martyrs Canada is reaching out to the suffering Christians of Nigeria through the ministry's "Christmas Blessing" project. By providing these victimized believers needed practical aid through our various in-country projects, the compassion of Jesus and His healing touch is being extended to them in tangible ways. To be part of this "Christmas Blessing," you may go to our donation page.
Please remember to pray for God's protection over these targeted believers in northern Nigeria throughout the Christmas season, including the abducted schoolgirls who have yet to be located. May He minister healing to those still suffering from the aftermath of the attacks. Ask Him to also touch the hardened hearts of the perpetrators, giving them the ability to sense their wrongdoing and empathize with their victims, so they will no longer be oblivious to the immense pain and suffering they are causing so many innocent people (Ezekiel 11:19). May they, too, have the opportunity to experience the presence of God in their lives by acknowledging Jesus Christ as Saviour and Lord.