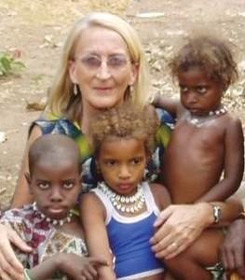 Phyllis Sortor
FMCUSA via Morning Star News
Phyllis Sortor, a 71-year-old missionary who was abducted by gunmen on February 23rd, was thankfully released from her captors on March 6th. The Christian woman was kidnapped from Hope Academy in Emi-Oworo village which is located within the central state of Kogi. Her main focus of ministry there was leadership development and the facilitation of a sponsorship program. She was also involved in establishing schools and instituting grazing projects to help alleviate the long-term conflicts between farmers and Fulani herdsmen.
Phyllis and her husband Jim previously ministered in Rwanda for nearly six years before moving to Nigeria in 2005. After Jim passed away in 2008, Phyllis remained in the African country where she continued to offer her gifts and talents to the Lord.
A church leader shared that "Phyllis was aware there were risks associated with her ministry, but also knew there are very few places in the world without risks and dangers." In fact, Phyllis herself had recently proclaimed: "Heaven is for real! There is no guarantee in life; no safe place -- other than that place we find ourselves when our full faith and trust is in God!"
Praise God that Phyllis has been released! May He grant her full healing as she now recovers from this arduous ordeal. Pray, too, that she will be given wisdom while endeavouring to discern His plans for her life going forward. Also ask that He richly bless the ministry efforts of this dear sister in Christ and her colleagues in Kogi State, using them to reach many with the Good News of Jesus.