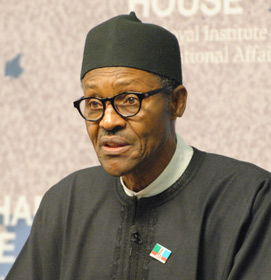 Pray for Nigeria's newly appointed leader,
President Muhammadu Buhari.
Photo: Chatham House
via Wikimedia Commons
Boko Haram has been attacking the major city of Maiduguri to re-establish their original base of operations, recognizing its strategic importance. The city's location provides an advantage which would allow the militant group to more easily spread throughout Nigeria, as well as infiltrate neighbouring countries. National leaders in Nigeria, Niger, Chad and Cameroon are aware of this and have combined military forces to stop the group.
In recent weeks, 46 civilians have been killed by the group's three failed attempts to infiltrate the city limits. President Muhammadu Buhari announced in his inauguration speech that the military headquarters was moving from the capital of Abuja to Maiduguri in the fight against Boko Haram. Niger President Mahamadou Issoufou stated that a multi-national force to fight Boko Haram will become operational in a couple of weeks. Troops from Niger, Chad and Cameroon have been helping Nigeria fight the militant group, which has staged attacks in all three neighbouring countries.
More than 1.5 million Nigerians (many of whom are Christians) have been displaced by the nearly six-year Islamist uprising in Nigeria's northeast, which has already taken the lives of an estimated 13,000 people and caused tremendous anguish for countless more. For previously posted prayer alert and video reports on the dire situation in Nigeria, please go to the Nigeria Country Report.
Pray that the Lord will frustrate the evil plans of Boko Haram so they will fail in their continued attempts to perpetrate violence against Africa's innocent victims. May all those who have suffered at the hands of this militant group be spiritually, physically and emotionally healed, and thus enabled to overcome the trauma of the assaults. Intercede for the members of Boko Haram in hopes that many of them will come to know Christ in a personal and profound way. Also pray for Presidents Buhari and Issoufou, as well as all who are serving within these troubled countries, asking the Lord to grant them needed wisdom and protection as they implement strategies in their efforts to end the senseless violence and bloodshed.