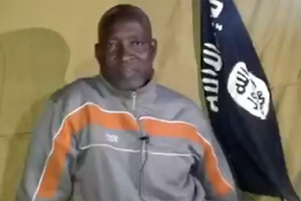 A leader of the Christian Association of Nigeria (CAN) and pastor of a Brethren church, Lawan Andimi, was executed by Boko Haram terrorists on January 20th. Pastor Lawan was kidnapped during a raid in the town of Michika on January 3rd (read more). Shortly after, a video was released in which the pastor speaks of his faith in God's sovereignty despite the situation. He told his family: "God is still alive.... Don't cry, don't worry, thank God for everything." News of his death also came via video, sent to the same journalist, showing the beheadings of Pastor Lawan and an unnamed soldier.
In response to the news, Floyd Brobbel, CEO for The Voice of the Martyrs Canada, echoed the testimony of Pastor Lawan by declaring: "His life was not wasted. What the enemy has meant for evil will be used for the Lord's glory. So while today we mourn, tomorrow we rejoice."
Three days of prayer and fasting were declared by CAN in response to the killing. A spokesperson stated they had done everything possible to secure the pastor's safe release. Without the support of the military, they had no further options. The organization is urging the government to take all necessary steps to safeguard the lives of Nigerian Christians.
Please remember the family and friends of Pastor Lawan in the wake of this devastating news. Join with Christians throughout Nigeria who are mourning the loss of so many innocent lives and praying for peace and safety. Even in the midst of this tragic loss, we can thank God for the powerful testimony of grace that was demonstrated through the life and words of Pastor Lawan. May the Lord use it to touch the hearts of people around the world, including the perpetrators of the crimes.