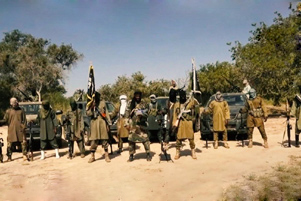 More than a hundred Boko Haram militants stormed into the town of Garkida on February 21st, causing terrible chaos, loss and destruction. According to reports, they killed two soldiers at a military checkpoint before entering the town where they spent hours ransacking, looting and killing. By the time order was restored, at least three church buildings were destroyed, along with a police station, hospital, and an unspecified number of houses. During the compilation of this report, the total number of people killed or kidnapped had not yet been determined by local officials.
Garkida is a predominantly Christian town. At the time of the attack, an annual women's gathering for the Church of the Brethren was taking place. Thankfully none of the women who attended were killed. However, buildings belonging to the Brethren, Anglican and Living Faith churches were destroyed. Many of the residents fled the town for safety and, at last report, the military was patrolling the streets.
Christians are calling on government leaders to take decisive action against the violence they are repeatedly facing. On February 3rd, approximately five million Christians marched in protest, drawing attention to the overwhelming number of senseless murders that have taken place from years of terrorism attacks. More information on the extreme hostility that Christians in Nigeria have been forced to endure is available at our country report.
Please prayerfully uphold the many Christians of this community who have been traumatized as a result of the recent attack. Ask God to greatly comfort the loved ones of those killed and to divinely intervene on behalf of any who've been kidnapped. Pray that provision will be made available for community members who have lost their homes, churches, and/or personal belongings in the rampage. May the authorities be given wisdom, as well as needed law enforcement strategies, so they can effectively deal with the rampant violence. Last, but not least, intercede for the perpetrators that they will have a dramatic encounter with our Lord Jesus Christ who longs for their salvation and deliverance from the enemy of their souls.