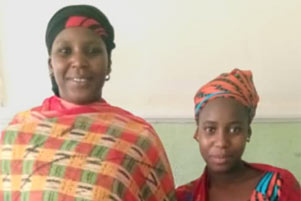 On the night of January 5th, Sadiya Amos had just finished a New Year's celebration when she was abducted. Two days later, her father was forced to attend a Sharia court where he was accused of preventing Sadiya from converting to Islam. A fake birth certificate was presented as evidence that she was 19 years old, rather than her true age of 17. Throughout the proceedings, the court refused to allow the teen's parents any access to her, nor let them know where she was located.
Confined to a locked room for more than a month, Sadiya was forced to convert and marry one of her kidnappers. One day, however, she miraculously found the door unlocked and the guards outside the door asleep. Fleeing, she managed to return to her parents. We praise God for providing a way of escape for young Sadiya.
Similar cases of abduction happen frequently around the world to Christian girls, such as the situation pertaining to Huma Younus in Pakistan (read more). Their concerned families are very appreciative of our continued prayers for their loved ones' safety, well-being, and hopeful release from captivity.
Praise God for making a way of escape for Sadiya. Pray for this teen's emotional healing as she recovers from this terrible ordeal. Ask God to provide Sadiya and her family protection from any retribution sought by the kidnappers. Pray that Nigeria's authorities and courts will provide true justice and protection for all who are vulnerable targets of such victimization. Remember the many other abducted girls, such as Huma and Leah (Sharibu), who are still being held in captivity -- whether in Nigeria, Pakistan, or other nations where persecution is prevalent.