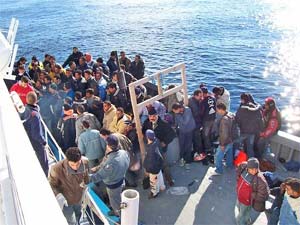 Migrants crossing from North Africa to Sicily
Photo: Vito Manzari via Barnabas Fund
Militant Muslims, who were among the migrants trying to flee from Libya to Italy in a boat, threw 12 of their fellow passengers overboard. Witnesses of the incident testified that the perpetrators had committed this crime because the victims were followers of Christ. Italian authorities have consequently arrested 15 people on suspicion of murder for those lost at sea.
The original group of passengers, consisting of 105 people, left Libya on April 14th in a rubber boat. Sometime during the trip north across the Mediterranean Sea, the alleged assailants -- Muslims from the Ivory Coast, Mali and Senegal -- threw the believers overboard.
According to tearful witnesses, a dispute broke out when a Nigerian Christian man prayed for salvation as the boat moved out to sea. "The Muslims...threw the Christians into the water," explained a believer who was aboard the vessel. "We tried to stop them, but there were more of them than us." Other passengers on the voyage told police that they themselves were spared "because they strongly opposed the drowning attempt and formed a human chain." The murdered Christians were from Nigeria and Ghana.
Thousands of people each year make the dangerous sea journey from North Africa to Europe's Mediterranean coast, often aboard vessels that are poorly equipped for the trip. Many of them attempt the voyage to flee war and poverty in Africa and the Middle East.
Please intercede on behalf of the many friends and family members who are now coping with the tragic loss of loved ones due to this incident, asking God to greatly comfort their grieving hearts and strengthen their faith. May the Italian authorities deal justly with the perpetrators, holding them accountable for committing this terrible crime. Pray, too, that the assailants, along with many others of North Africa who do not yet know our Risen Lord Jesus, will come to faith in Him.