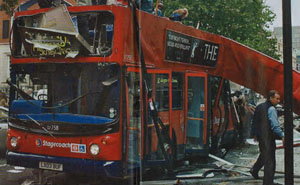 Bus bombings have become increasingly
common in predominantly
Christian areas of the Philippines.
Photo: Pakistan Tribune
Christians in the Philippines, especially in Mindanao, have been targeted by terrorists and anti-government rebels in a series of bus bombings while using public transit. The attacks have resulted in serious injuries and, in some cases, even fatalities. (For more information on persecution in the Philippines, review VOMC's previously posted prayer alerts/video reports.)
VOM Australia recently spoke with Esther, a Christian resident of Mindanao and the daughter of a pastor, as she described her personal experience in a bus bombing ordeal. Ready to apply for her first nursing job, Esther had boarded an early morning bus containing seven other passengers. After a loud and abrupt explosion, the passengers ran outside. Thankfully, no one involved in this particular incident was killed, but some -- including Esther -- had to be hospitalized after sustaining severe wounds and loss of hearing.
Esther suffered from a damaged ear drum, and now has difficulty walking due to vertigo. Yet she thanks the Lord that fellow Christians have been praying for her healing. Six months after the bombing incident, a doctor told Esther that her eardrum is almost completely restored. The medical specialist then exclaimed, "It's a miracle!"
Thank the Lord for answering prayer on behalf of those still recovering from the aftermath of the bombings. Continue to pray that He will not only minister healing and freedom of fear to the injured victims, but also needed comfort to loved ones who are now grieving over loss. May He use Esther's vibrant testimony as a means to: 1) convey the plight of Christians in the Philippines; and 2) share the Gospel message with others in need of salvation. More specifically, ask the Lord to convict the hearts of the assailants so they may experience spiritual transformation and serve as catalysts of His peace, bringing an end to this violence.