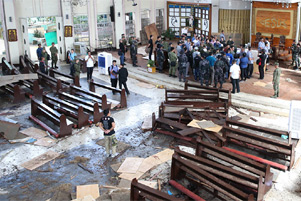 Coordinated bombs at a cathedral in Jolo, southern Philippines, killed at least 20 people and injured over 80 on January 27th. The first bomb went off during the church service; the second exploded outside the door, as people fled and troops responded to the disaster. Those killed included five soldiers. ISIS has claimed responsibility for the incident, and the Philippines military has been conducting raids in an effort to track down those responsible.
The blast happened less than a week after a referendum in which the people of Mindanao voted in favour of setting up a Muslim-controlled region in southern Philippines. There are questions as to whether this incident will affect a second vote on February 6th for other areas to be included.
There has been much speculation on any possible connection between the referendum and the attack. Many of the Christian minority in the region have been in favour of the proposed autonomous region, despite the Islamic control. Efraim Tendero, the general secretary of the World Evangelical Alliance, believes the attack was instigated by a group that did not want a peace agreement and so created terror. For more information on persecution in the Philippines, go to our country report.
Please remember those who were injured, as well as the families and friends of those killed, during this horrific attack. Pray that justice and peace will prevail in this violence-torn area of the Philippines. May those responsible for this recent attack experience the conviction of God, leading them to repentance and salvation.