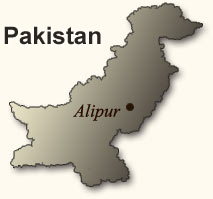 A Christian woman who was arrested for making derogatory remarks about the Prophet Muhammad on March 21 in Pakistan's Punjab province (click here for the story) has been denied bail. On April 20, a judge rejected Rubina Bibi's petition and instead transferred her case to the district session judge of Wazirabad. Judges in Pakistan are often reluctant to make decisions in such cases due to pressure from Muslims and it is not uncommon for them to refuse bail so the case can be moved to the high court in Lahore. At last report, Rubina was being held in prison with her one-year-old son while the rest of her family had gone into hiding out of concern for their lives. (Source: Centre for Legal Aid Assistance & Settlement, ASSIST News Service)
Pray that the charges against Rubina will be dropped and that she will be released from prison. Pray for safety and health for her family at this time. Pray that freedom of religion and speech will be respected in Pakistan.
To learn more about the persecuted Church in Pakistan, check out the Pakistan Country Report.