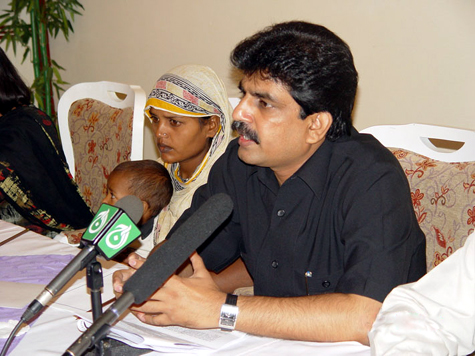 Shahbaz Bhatti, who was assassinated, speaks at a
press conference with Younis Masih's wife, Meena.
Photo: All Pakistan Minorities Alliance
While Pakistani believer Younis Masih awaits word on his appeal against the death sentence he received for blasphemy, Pakistani teenager Rimsha Masih is scheduled to return to court to face blasphemy charges.
Younis, a husband and father of four, has been imprisoned for the past seven years on a false charge of blasphemy (for more, click here). His family has been forced to flee their home, and Younis has been attacked by other inmates while in prison. His lawyer survived an apparent attempt on his life and has also been threatened.
Rimsha, who has also been unjustly accused of blasphemy, will soon be returning to court in Islamabad (for more, click here), and her lawyers are pushing to have the case dismissed.
Please pray that Younis and Rimsha will both be freed and returned safely to their families. Please pray that their lawyers will be protected and will persevere despite personal danger. Praise God for these faithful believers and pray that He will use them to draw others into relationship with His Son.
For more on the persecution of Pakistani Christians, go to the Pakistan Country Report.