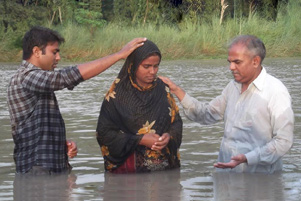 Faraz Ahmed Badar, a Christian pharmacist at a hospital in Gujranwala, was killed by being doused with acid as he was leaving work at 2:00 a.m. on September 5th. The 26-year-old had been working for two years as manager at the DHQ Hospital.
According to his parents, he had faced regular harassment from a Muslim colleague who did not appreciate having a Christian as his manager. Two months previously, Faraz had been attacked by a group of men in masks who kicked him in the mouth claiming that "a Christian is not even able to lick their shoes." They threatened to kill him unless he quit his job.
Faraz's parents are seeking justice for his death as they grieve the loss of their son. Yet, despite this tragedy, his father Badar Masih states: "My son was targeted for his Christian faith. I don't think we, the Christians, are safe in Pakistan. However, it is our country and we love it with our soul and spirit. We won't seek refuge."
Lift these parents to the Lord as they mourn the loss of their dear son. Remember other Christians in Pakistan who face similar threats on a regular basis. May justice be sought by the authorities. Even so, please intercede for those responsible for these crimes -- in hopes that they will personally experience the grace and forgiveness of God.